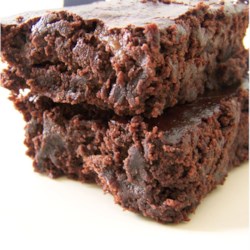 We add Pecans to ours, and Whole Wheat flour so they at least have a teensy bit of nutrition for the family!
With so many ads for Holiday Baking, I just had to give in and make me some homemade Brownies! We don't eat dairy or eggs in our house when we all share due to my dairy sensitivity, and my daughter's severe egg allergy, so we've learned over the years how to substitute for almost every dish and we never feel deprived! This recipe if for a GIANT pan of brownies, and they are the best!
1/2 cup smooth t

ofu,

(or if non-vegan 4 large eggs)

1 1/4 cups Double-Dutch Dark Cocoa or Dutch-process cocoa

1 teaspoon salt

1 teaspoon baking powder

1 tablespoon vanilla extract

1 cup Coconut oil, or margarine(Or, for non-vegan add 2 sticks butter)

1

1/4 cups sugar

1 cup brown sugar

1 1/2 cups Unbleached All-Purpose Flour

2 cups chocolate chips
Preheat the oven to 350°F. Lightly grease a 9" x 13" pan
2) Add tofu into a bowl, and beat with the cocoa, salt, baking powder, espresso powder, and vanilla till smooth.
3) In a medium-sized microwave-safe bowl, or in a saucepan set over low heat, melt the margarine or coconut oil, then add the sugar and stir to combine. Or simply combine the oil and sugar, and heat, stirring, until the butter is melted. Continue to heat (or microwave) briefly, just until the mixture is hot (about 110°F to 120°F), but not bubbling; it'll become shiny looking as you stir it. Heating the mixture to this point will dissolve more of the sugar, which will yield a shiny top crust on your brownies.
4) Add the hot butter/sugar mixture to the tofu/cocoa mixture, stirring until smooth.
5) Add the flour and chips, again stirring until smooth. Note: If you want the chips to remain intact in the baked brownies, rather than melting in, let the batter cool in the bowl for about 20 minutes before stirring in the chips.
6) Spoon the batter into a lightly greased 9" x 13" pan.
7) Bake the brownies for about 30 minutes, until a cake tester inserted into the center comes out clean, or with just a few moist crumbs clinging to it. The brownies should feel set on the edges, and the center should look very moist, but not uncooked. Remove them from the oven and cool on a rack before cutting and serving.
These are awesome warm, with vanilla ice cream on top, and served with hot cocoa!