Since you're probably already using cloth diapers, adding cloth wipes to your routine is a very easy thing to do.
Anything. I'm not saying cut up your Mother-In-Laws new guest towels, but you can use almost anything. Old t-shirts, old towels, cheap wash cloths, old receiving blankets, flannel, bamboo, OBV, terry cloth, the list goes on. Your only limitations are to use something absorbent (no polyester) and soft (no sandpapered butts) You can make your own or buy from your choice of vendors.
Or, if you can wait just a little bit longer, SoftBums will soon be releasing their own super soft cloth wipes! Stay tuned for details!!!
If you make your own cloth wipes you will want to do something to the edges so they don't unravel and get stuck in your hook and loop. You can serge the sides, edge stitch, or sew two pieces wrong sides together and flip them right side out then edge stitch.
Just throw them right in with your cloth dipes (unless you're using a solution which will cause repelling, then wash like your dipes but separately).
Use a spray bottle to spritz baby's bottom or the cloth wipes. (For baby's comfort we prefer spraying the cloth wipes)
Use a bottle with a pull-up spout (like on bottled-water bottles) to dribble solution onto the cloth wipes.
Warm solution and place in an insulated container to provide warm wipes for baby.
Place the solution into a commercial baby wipes container and dip cloth wipes into the solution.
Place cloth wipes in a commercial baby wipes container and pour wipes solution over wipes.
A commercial baby wipes container can be placed in a wipes warmer to provide cozy warm wipes for baby.
We have the Prince Lion Heart Cloth Wipe Warmer and love it! My favorite thing about this warmer we discovered just recently--I put some oil on the very bottom, under the moisture pad in the bottom it almost doubles as an aromatherapy source. Lavender or Eucalyptus oil are our favorites. I don't think it's a recommended use, but it works! :) Just a drop or two every couple weeks keeps our wipes smelling fresh and clean.
And the warmer keeps your baby from making this face when hit with a cold wipe to the rear:
The easiest is just plain water, which is what we use at our house. In my opinion, nothing else is needed...if something more is needed that's where I would put my kids in the tub and "hose" 'em off. We have been rash free at this house.
Disclaimer: I have not personally tried any of these options. Please note a little goes a long way! Make sure your solution doesn't contain too much oil to prevent repelling issues with your diapers. If you like a recipe with more oil, you can always separate your wipes and dipes and wash them separately.
Here are some other options to try making on your own:
Basic Wipe Solution
This basic recipe can be adapted by changing the type of soap or oil.
1/2 cup baby oil
1/2 cup baby wash
2 cups water
Castile Solution

Dr. Bronner's Castile Soap comes in several yummy scents!
1 tablespoon almond, apricot, or other oil
1 tablespoon Dr Bronner's Liquid Castile Soap
2 drops tea tree oil
1 drop lavender oil
1 cup water
Essential Oil Solution
With three different EOs contributing their unique properties...
4 cups water warmed in microwave
2-4 drops Tea Tree Oil
2-4 drops Lavender Essential Oi1
1 Tablespoon Grapeseed Oil
1 Tablespoon Calendula Oil
2 Tablespoon Baby Wash
Thanks to Lucinda A. for this recipe.
Fruit 'n' Veggie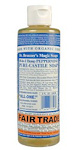 Dr Bronner's soaps can often be found in organic markets.
1 teaspoon fruit or vegetable-based oil (apricot, olive, grapeseed, etc)
1 tablespoon vegetable-based soap (like Dr. Bronner's liquid castile)
1 teaspoon 100% aloe vera gel
1 cup water
Just One
Just one "something" of each ingredient for this recipe.
1 chamomile tea bag
1 teaspoon oil
1 teaspoon baby bath or shampoo
1 drop lavendar oil
1 cup hot water
Lavender 'n' Tea Tree
Lavender and Tea Tree are popular EO choices for wipe solutions.
1/8 cup olive oil
1 tablespoon baby shampoo
4 drops tea tree oil
8 drops lavender oil
3 cups water
Variation: Use lavender baby oil and lavender baby wash for a heavenly Lavender wash. Thanks to Nicole M. for this variation.
Lotion Potion
Baby lotion adds more softening power to this solution.
1 tablespoon baby oil
1 tablespoon baby soap
1 tablespoon baby lotion
1 cup water
Variation: Replace the baby oil and lotion with 2 tablespoons Baby Magic Creamy Baby Oil for a less oily potion. Thanks to Kimberly A. for this variation.
Magic Baby

Baby Magic products are usually easy to find in local stores.
1/2 cup Baby Magic oil
1/2 cup Baby Magic wash
2 cups water
No Measuring
Don't measure for this one, just estimate amounts.
2 squirts baby oil
2 squirts baby wash
1 drop EO
1 cup water (about)
Shampoo Style
Baby shampoo works as well as baby wash.
1 tablespoon baby oil
2 teaspoons baby shampoo
2 1/2 cups water
Zany Apricot Solution
1 tablespoon apricot oil
1 tablespoon unscented baby wash
3 cups water
Zany Lavender Solution

1 tablespoon baby oil
1 tablespoon lavender scented baby wash
2-3 drops lavender oil
3 cups water
Solutions you can buy:
Washy Wafers cloth diaper wipes solution is back, and this time it is even better! We took the original Washy Wafers solution and added vitamin E, healing aloe vera, soothing calendula and real silk protein.
Silk protein has gotten a lot of attention recently in the cloth diapering world due to claims that it can heal diaper rash. We've seen no studies to prove this, but we do know silk protein makes your skin feel nice!
Soothing aloe vera extract and gently cleansing glycerine soap combine to make an easy to use and very portable diaper wipes solution. Added silk protein makes this silk-rich solution perfect for baby's delicate skin. We add an extra helping of shea butter to make this rich diaper wipes solution an excellent "mess" remover.
Simple to use, just add 1 or 2 cubes to 1 cup of very hot water. Allow to cool and pour over cloth wipes. You can also use a spray bottle or squirt bottle to wet wipes as you need them. Be careful not to contaminate the solution. Replace with fresh solution every 1-2 days as it does not contain preservatives.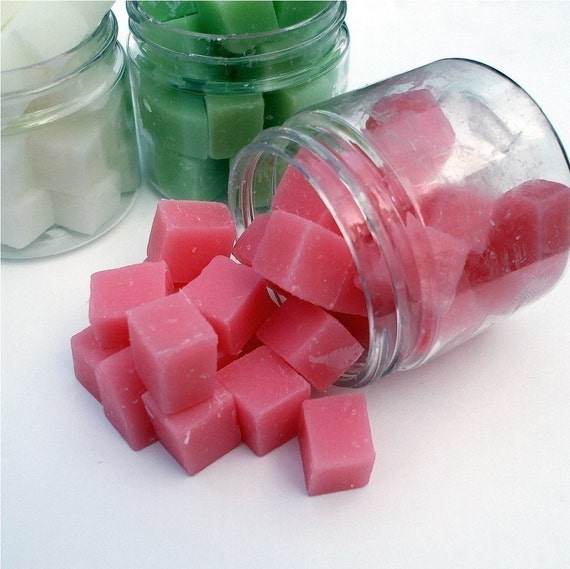 A wonderful concoction that smells like baby and honey - very similar to Burt's Bees "Baby Bee Buttermilk." Contains hints of vanilla, peach, violet and honey.
~~~~~~~~~~~~~~~~~~~~~~~~~~~~~~~~~~~~~~~~~~~~~~~~~~~~~~~~~~~
New this summer! Lots of natural soap bit goodness, packed into a large phtalate-free jar. I can fit approximately 35 bits in this medium-sized jar.
The first picture depicts the approximate coloring of these soap bits (color may vary due to differences in monitors and also in my hand-made batches.)
A jar would make a great gift for anyone looking for a multi-purpose soap that's free from harsh detergents. An easy way to be eco friendly!
Use your soap bits for:
*cloth wipe solution
*a gentle pre-wash solution for cloth menstrual pads
*one-use guest soap
*foaming cleanser
*travel wash
*kids' bath soap - no more melted, wasted bars!
*Avoid smelly chemical-laden public restroom soaps - take one or two cubes in a small pillbox and wash your hands with a refreshing, natural soap instead!
I use an all natural high-glycerin soap as a base for these yummy cubes so they'll dissolve easily and moisturize well. Shea butter is added for even more moisturizing. Finally, for this scent, I added a gentle fragrance oil and FDA-approved dye. (If you prefer soap bits that are undyed or scented with all-natural essential oils, check out my other listings!)
All undyed Essential Oil soap bits are 100% natural. All other fragrances are made with high quality phtalate-free fragrance oils, but since they are synthetic, the final product is only 99% natural. Adding dyes to the product reduces this percentage one additional percent.
All my soaps are made without harmful chemicals like Sodium Laureth Sulfate - so you know you're putting the best on your family's skin!
~100% all natural ingredients
~Safe to use with cloth diapers
~Helps prevent and soothe diaper rash
~Great for sensitive skin
~Multiple uses: wipe messy faces, great for travelling and camping!
A lightly scented baby wipes solution can be made by dissolving Booty Cubes in water. Booty Cubes contain

100% all natural

ingredients which help prevent and soothe diaper rash. I use these by dropping 1-2 cubes in a squirt bottle and mix them with about 8 oz. of hot water until they are dissolved, please remember to let solution cool before using. Then I just put some of the mixture on my reusable wipes and Voila! The job is done! These are safe to use with cloth diapers!
Booty Cubes do NOT contain:

chemicals, detergents, dyes, sulfates (SLS/SLES), parabens, phthalates, Cocomide DEA, surfactants, alcohol, propylene glycol, and has not been tested on animals. All of our products are made from vegetable oils, are completely vegan (except milk in goat's milk cubes or soap), and are biodegradable. Essential oils OR Fragrance oils in Booty Cubes are used in small amounts; only enough to "get the job done"!
Thirsties Booty Luster Wipe Solution Spray, 4 oz
Product Description
A completely non-toxic, non-irritating solution

100% biodegradable

Custom formulated especially for use in cleaning your baby's diaper area

Loosen waste, thoroughly cleanses, and gently moisturizes your baby's skin

Restores skin's natural barrier against bacteria

Soothes skin and helps prevent diaper rash

Dries completely clean; will not leave residue

Made in the USA
Details:
Thirsties Booty Luster is blended by hand in small batches, using flowers, plants, resins, and high quality organic ingredients. Each component of our wipes solution has been carefully selected to not only clean your baby's diaper area, but to soothe and moisturize, as well. And perhaps most importantly, the properties of Thirsties Booty Luster actually help to restore the natural barrier your baby needs to protect him/herself from harmful, rash-inducing bacteria. Use Thirsties Booty Luster at every diaper change to clean thoroughly-yet gently, to moisturize, and to help protect your baby from diaper rash.
Do you have a solution you LOVE at your house, or have a tip that you would like to share!? Please Pleas Please Comment!